Valentine's Day is quickly approaching and I thought this would be the perfect time to share with you all a sweet little treat that you  may want to make for that special someone this upcoming v-day.  You may not know that I love to cook (and have a bit of a hidden baking talent) and over the past few months I've been trying to master some of my favorite restaurant desserts at home.  I found this particular recipe online and tweaked it a bit (pats self on back) and came up with this…my homemade Molten Chocolate Cake!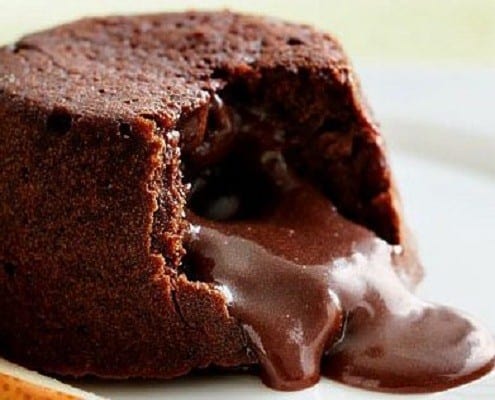 Supplies Needed:
Medium mixing bowl (microwave safe)
A whisk
Cookie sheet
Two 6 or 8 ounce ramekins
Non-stick cooking spray
Ingredients:
4 Tablespoons unsalted butter
4 Tablespoons cocoa powder (I use Hershey's)
1/2 teaspoon vanilla extract
2 large eggs
4 Tablespoons sugar
2 pinches of salt
1 pinch of baking powder
2 Tablespoons flour
1/8 teaspoon cayenne pepper
fresh strawberries
Instructions:
Preheat the oven to 400 degrees
Melt the butter in the microwave safe bowl
Add the 4 tablespoons sugar and mix with whisk
Whisk in one egg at a time until fully incorporated
Then whisk in the remaining ingredients (not the strawberries) until blended
Add a splash of milk if the batter seems too thick
Spray the ramekins with the non-stick cooking spray and set on the cookie sheet
Divide the mixture between the two ramekins and gently shake to even out the batter
Place in the oven for 11-14 minutes. The cakes are done when the center jiggles slightly when moved
Once out of the oven, run a small knife around the cake to separate the cake from the ramekin
After about two minutes, carefully flip over the ramekins onto a plate and top with a halved strawberry
Enjoy!
Feel free to omit the cayenne pepper if you don't appreciate a little kick.  You can substitute with cinnamon or finely ground coffee if you prefer those flavors or omit it all together!  They all pair very well with chocolate.  This quick recipe is always a hit and impressive in both taste and presentation.  Bon appetit!